NAQCPA:


NAQCPA Home
About NAQCPA
Donate to NAQCPA
Almaden Quicksilver Park Info
Mining Museum
Gift Shop
Museum Archives
Outdoor Museum
Pioneer Days
New Almaden Days
News, Media, Articles, and Links
Pictures, Special Reports
Almaden Quicksilver Park Events
Events in Other Parks

_____________

Links:
New Almaden and Almaden Quicksilver:
New Almaden Self-Guided Walking Tour
Almaden Quicksilver Mining Museum
Mining Museum Archives
Directions to Almaden Quicksilver
Almaden Quicksilver County Park
Trail Map
Open Road TV show on Almaden Quicksilver

Santa Clara County Parks:
Santa Clara County Parks Homepage
Calendar of County Parks Activities
Play Here! Activities Guide
Park Here! Guide to the County Parks
County Parks Volunteer Information
Volunteer Calendar
County Parks Healthy Trails Program
Parks for Life Challenge
Santa Clara County Parks on Facebook
Ron Horii's Pictures of the Santa Clara County Parks
Ron Horii's Pictures of County Park Volunteer Activities
Parks and Community:
Ron Horii's SF Bay Rec & Travel
Friends of Santa Teresa Park
Friends of Los Alamitos Watershed
New Almaden Community Club (webpage under construction)
Webmaster Contact

Welcome to the New Almaden Quicksilver County Park Association (NAQCPA) website. Our purpose is to promote the educational and interpretive activities of the Santa Clara County Parks and Recreation Department, particularly in Almaden Quicksilver County Park. This page is an archive of past news. (See here for 2015 news, 2016 news.)


2018 News: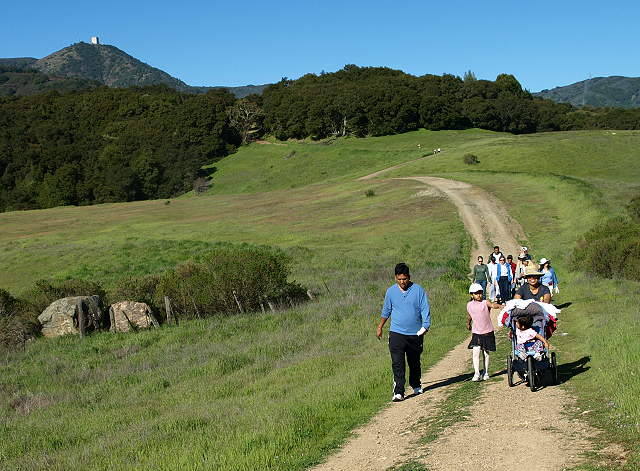 The County Parks' newest
#PixInParks Challenge
includes a
route in Almaden Quicksilver County Park
. It starts at the Wood Road Trail (picture above) and makes a loop around Mine Hill on the Castillero and Mine Hill Trails, before returning on the Wood Road Trail. Points of interest along the way include the Mine Hill Rotary Furnace, English Camp, the San Cristobal Mine, and Bull Run. It follows the same route as this
Healthy Trails hike in 2009
.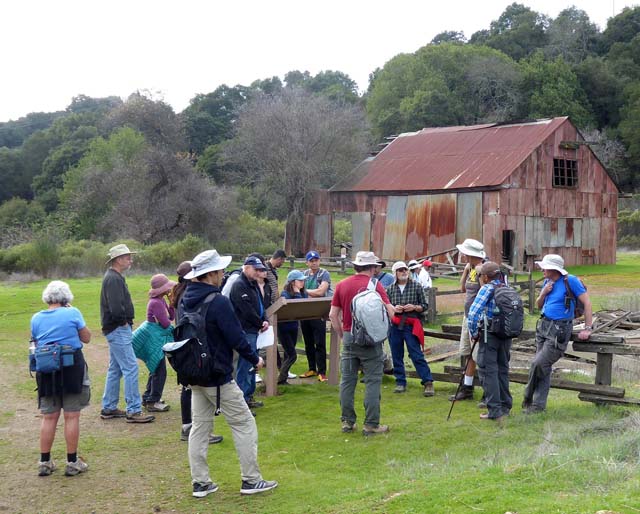 There was a CNPS/Open Space Authority plant hike at Almaden Quicksilver on 1/14/18. Docents and plant experts led a hike up the English Camp Trail to English Camp, then went down the Deep Gulch Trail. Here are
pictures from the hike
.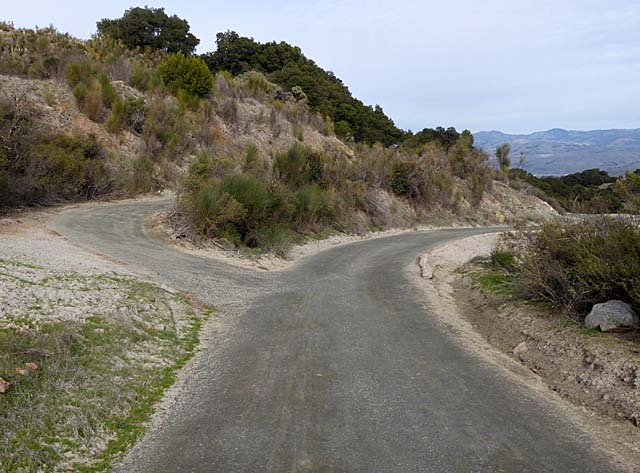 The Calcine Paved Roads Remediation Project has been completed. This is the Castillero Trail. Calcines, which are waste rock from mercury smelting, were removed from the trails (see 8/7/17 picture above), and the trails were resurfaced with gravel. Above is the Castillero Trail just east of the Hacienda Cemetery Trail junction. The trail branching off to the left is an old mine road leading to the Upper Velasco Cut. It's been resurfaced and may become a trail someday. (Picture taken 1/21/18.)

Taken on 1/21/18: The San Cristobal Mine, which had a fence at the opening due to a landslide-caused roof collapse deep in the tunnel (see picture from 8/7/17 above), is now open partway. Boards block access to the area beyond, which has the collapsed roof.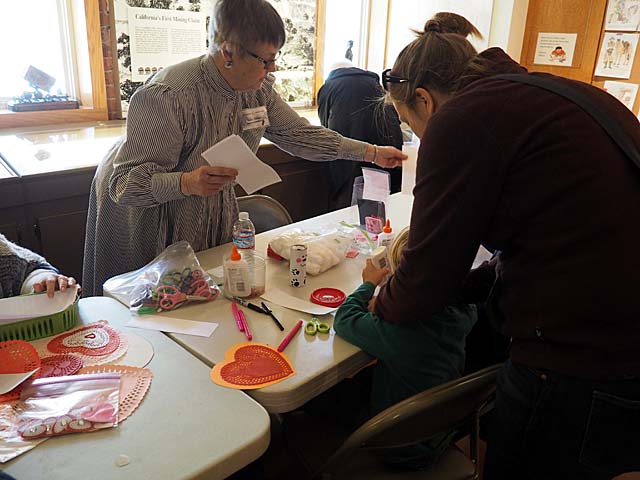 Living History Day
was held at the Casa Grande on 2/11/18. There were Valentine's Day crafts for kids.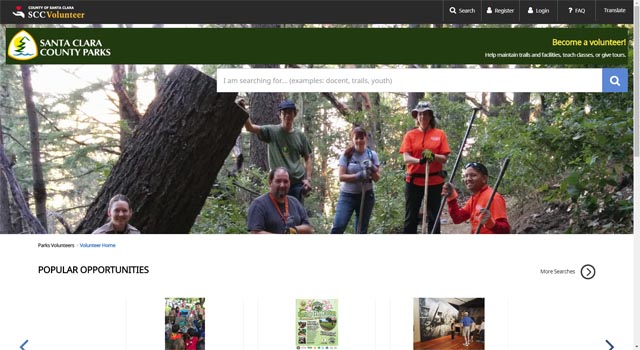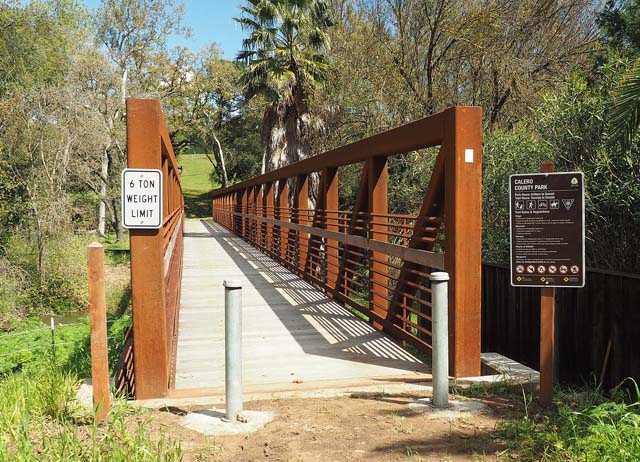 Almaden Quicksilver County Park has a new neighbor: the 966-acre Rancho San Vicente addtion to Calero County Park, which opened on 3/24/18. (See
Rancho San Vicente Opening Day, 3/24/18
.) The main entrance and parking lot is on McKean Road opposite Fortini Road, which leads to the Stile Ranch/Fortini entrance of Santa Teresa County Park. There is a neighborhood entrance on Almaden Road, on the other side of the street from 20491. There is no parking lot there, only limited street parking. It is a long way from the entrances to Almaden Quicksilver trailheads at the moment. It is approximately halfway between the Mockingbird Hill Lane and Hacienda entrances at Almaden Quicksilver, though there is talk of someday opening another entrance near the bridge on north Bertram Road. At the Almaden Road entrance, there is this bridge above, which leads across Alamitos Creek to the new Almaden Trail in Rancho San Vicente. Here are pictures of this entrance and trail:
Rancho San Vicente Almaden Road Entrance, 3/25/18
.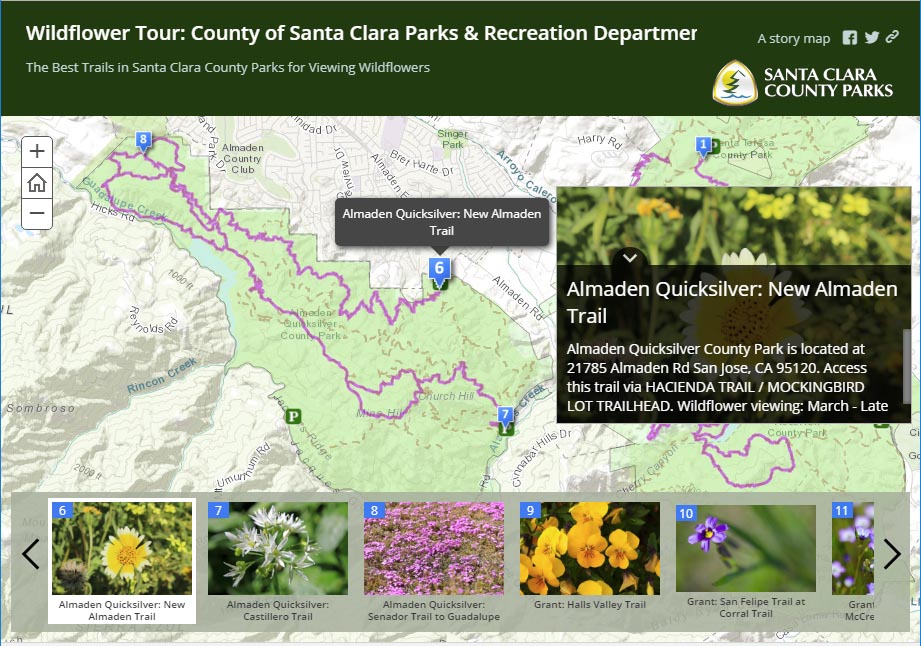 The County Parks has a new
interactive webpage
showing the best trails for viewing wildflowers in the parks. Three of the featured trails are in Almaden Quicksilver: the Senador Mine Trail, the Castillero Trail, and the New Almaden Trail. Two of the featured trails are in Santa Teresa Park: the Rocky Ridge Trail and the Stile Ranch Trail. Another is nearby in Calero (Rancho San Vicente). You can also
download a printed wildflower guide
.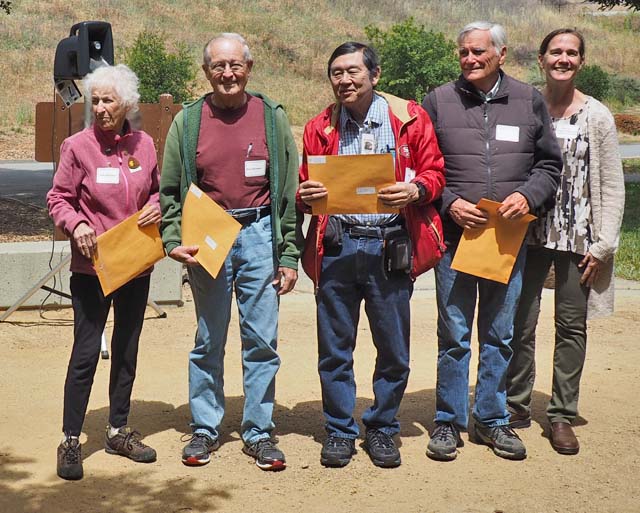 Here 3 NAQCPA and FOSTP (Friends of Santa Teresa Park) members are receiving lifetime volunteer service awards (left to right): 13,500 hours for NAQCPA President and FOSTP Vice President Kitty Monahan, 28,500 hours for Grant Park docent Ron Bricmont, 11,000 hours for NAQCPA Webmaster and FOSTP Secretary Ron Horii, and 8,000 hours for NAQCPA Board Member and FOSTP President Mike Boulland. Volunteer Program Manager Julie Lee is on the right.
Here are pictures from the Volunteer Recognition Event at Hellyer County Park
.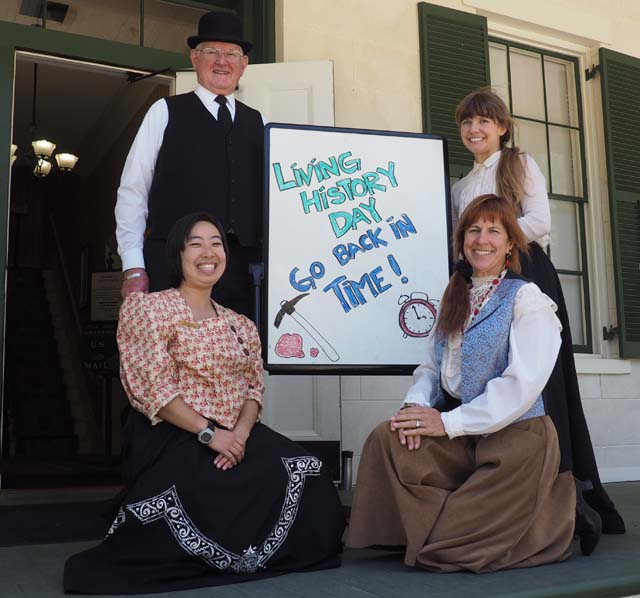 Living History Day was held at the Casa Grande on 5/6/18. Helping out were (clockwise from the top) Docent Doug, Park Interpreters Natasha, Chris, & Kelsi. See here for
more pictures from this event
.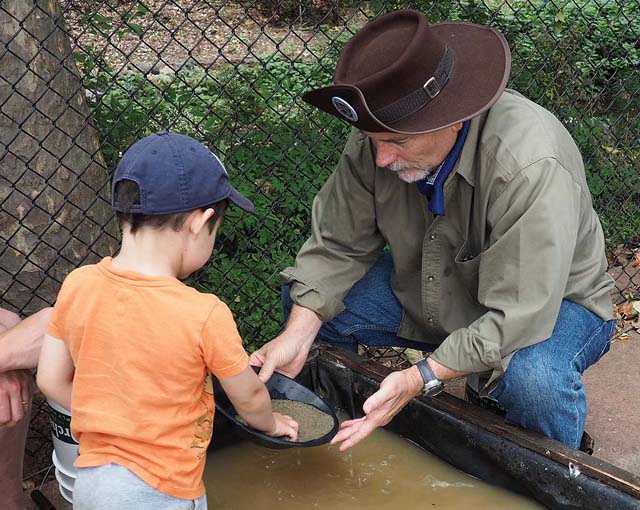 Play Like a Miner will be held at the Casa Grande on July 21, 2018 from 11 am to 3 pm. Join in for a fun day of learning what it was like to be a miner long ago. There will be games, demonstrations and crafts as well as an opportunity to try your hand at panning for gold and precious gems.A fun event for the whole family. Here are
pictures from last year's Play Like a Miner
.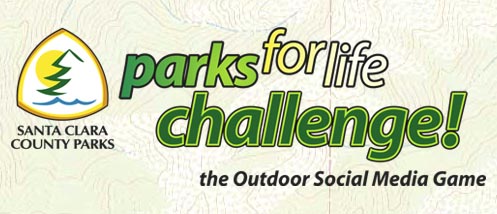 The Parks For Life Challenge is a FREE game that is hosted by the Santa Clara County Parks and Recreation Department to help you and your friends and family get outside and engage in healthy activities in our lovely 48,000 acre park system. Teams of 2 to 3 players sign up, and then choose to participate in outdoor adventures in any one of our 28 regional parks. Document your adventures by posting photos or videos on your social media sites to compete for awesome prizes. For more details and to sign up,
see here
.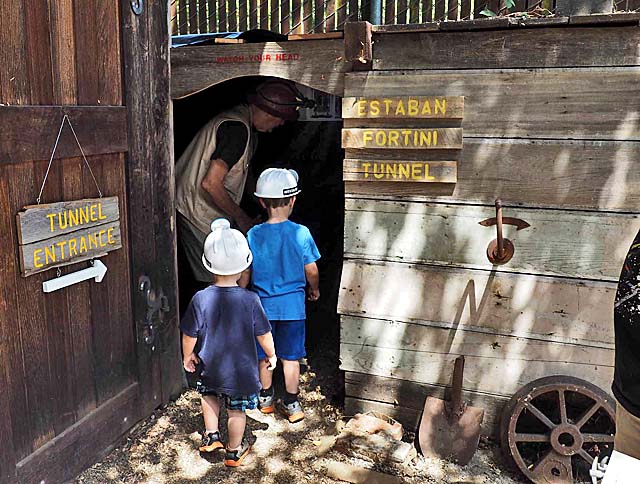 Play LIke a Miner was held at the Casa Grande on July 21, 2018. New this year was this simulated mine tunnel, which wrapped around the Blacksmith Shop. Visitors wore miners' helmets with lights to explore the tunnel, guided by volunteers. In the tunnel were mining pictures and artifacts. See here for
pictures of the event
,
volunteers and staff
, and
geology exhibit
.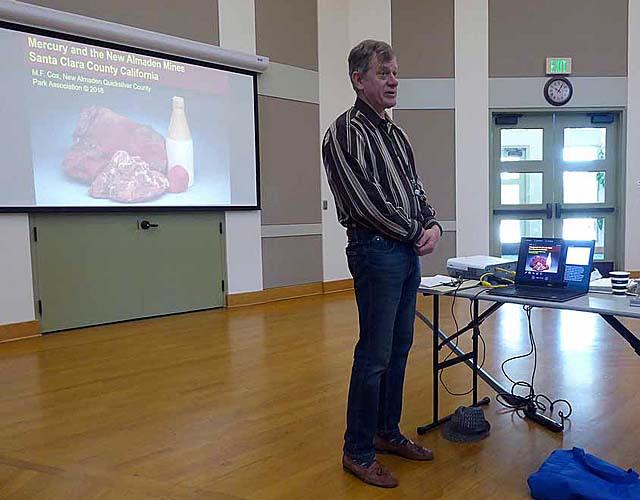 On August 15, 2018, geologist, historian, and NAQCPA co-founder Michael Cox gave a talk about the New Almaden Mines at the Morgan Hill Community and Cultural Center, 1700 Monterey Road, Morgan Hill, CA.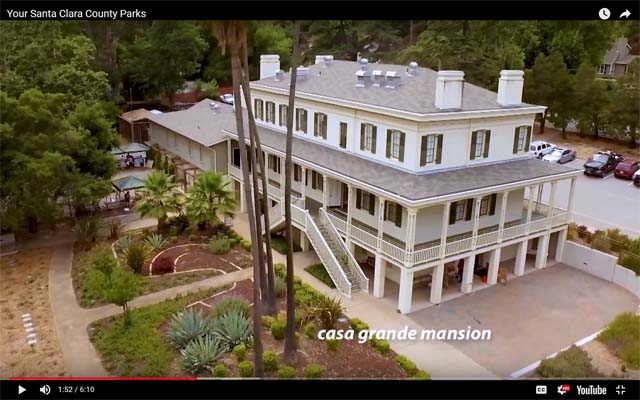 There's a new
6-minute video
, narrated by Doug McConnell, highlighting Santa Clara County Park's legacy of providing outstanding recreational opportunities in beautiful natural locations. Features include nature, historical sites, outdoor recreation, and the people behind parks. It features many of the County Parks, including Santa Teresa, Hellyer, Calero, Martial Cottle, and Almaden Quicksilver.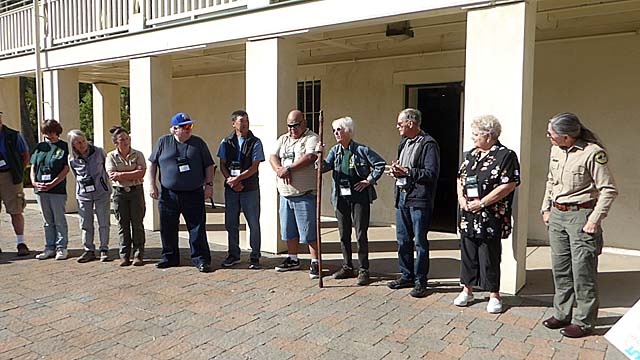 On September 6-7, 2018, there were visitor services training classes at the Casa Grande for County Parks hosts and docents. The first session, which was required for both hosts and docents, covered "informal interpretation including an overview of the parks system and mission, expectations, customer service, personal and visitor safety, etc." The second and third sessions, which were only required for docents, covered "interpretive themes and goals, methods and practice, group management skills, and creating and supporting audience centered experiences." More classes will be offered in the future for those who missed these. There are many volunteer opportunities for
visitor center hosts
and
school program docents
.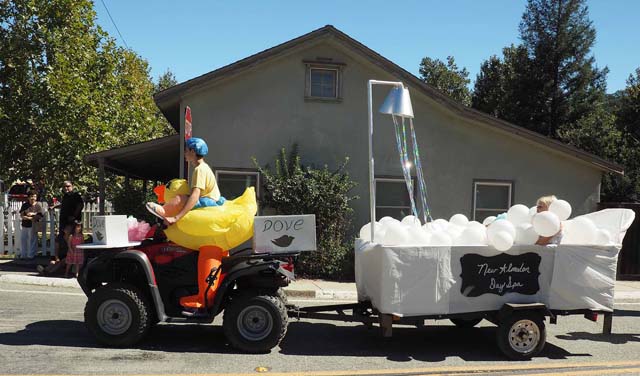 On 9/8/18, the annual New Almaden Day Jump-In Parade was held, but with some changes. The bridge over Los Alamitos Creek at the north end of town was closed for construction, though construction hasn't begun yet. The parade could not go down Bertram Road as usual, starting at the New Almaden Community Center. Instead, it started at Almaden Quicksilver's Hacienda staging area, went down Almaden Road, turned around at the Casa Grande, and came back on Almaden Road. Here are pictures of the
parade preparations
, the
parade going north on Almaden Road
, the
parade returning south on Almaden Road
, and the
carnival after the parade at the Community Center
.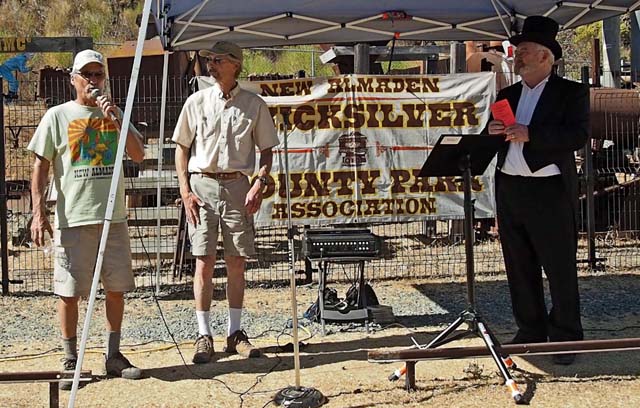 On Saturday, October 13, 2018, Pioneer Day was held at the Hacienda Outdoor Mining Museum. We celebrated the work to replace the interpretive signs at the Outdoor Museum. Here, Rich Robertson (left) and Bruce Bartlett (center) talk about the effort. Art Bouldreault (right) was the emcee at the event.

Here are pictures from Pioneer Day

. Here are black and white collages from Pioneer Day, made for the newsletter:

Page 1

,

Page 2

.

Copyright © New Almaden Quicksilver County Park Association

For more information, contact our webmaster, Ron Horii. Updated 1/6/20.